SUMMA METAPHYSICA:
A PHILOSOPHY/COSMOLOGY SERIES BY DAVID BIRNBAUM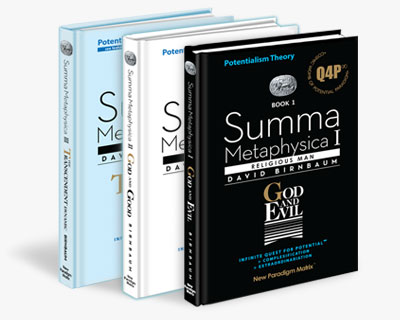 "Potentialism proposes that there is, indeed, a protagonist to the cosmic order, but that the protagonist is a 'quest', and not a 'classic entity'. The universe quests for its maximal potential. The core dynamic Quest for Potential∞ strives with purpose and direction towards ever-greater and higher potential. At the 'beginning of time', eternal Quest for Potential harnessed the eternal equations of Physics-Mathematics to ignite our universe via the Big Bang. This same symbiotic dynamic - Quest for Potential in league with Physics-Math - then acted as a catalyst for life, evolution, language, emotion, consciousness, and, indeed, for all the key dynamics which have evolved in the universe."
DAVID BIRNBAUM PHILOSOPHY / METAPHYSICS
OVERVIEW SUMMA PHILOSOPHY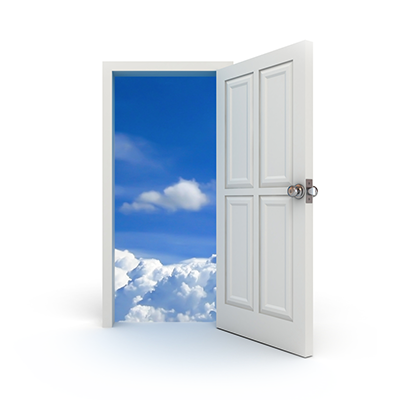 To the spiritual, this Potential is the Metaphysical God of Potential:
Eheyeh Asher Eheyeh:
I Will Be That Which I Will Be (Book of Exodus 3:14)
The Infinite Divine. Shadai. The Source. Holy Quest for Potential
The kabbalistic En Sof ('The No-End')
Secular or Holy, the grand cosmic journey of Potential advances-onward to this day.
With Freedom - axiomatically integral to Potential - being consequently inviolate, as well.
(This 'axiomatic play' is integral to Summa's proposed resolution of the classic Theodicy connundrum.)
***
read more
Summa Metaphysica's Theory of Potential
A Unified Metaphysics / Cosmology / Philosophy
by David Birnbaum
A Scientific Kabbalah
---
INFINITE QUEST FOR POTENTIAL∞
> COMPLEXIFICATION
> EXTRAORDINARIATION
---
the Summa SuperLaw: Q4P∞ > C+ > E+
---
Cosmic Womb of Potential
---
POTENTIALISM THEORY OF SUMMA METAPHYSICA BY DAVID BIRNBAUM
---
The Summa series:
Summa Metaphysica I: Religious Man: God and Evil
(Ktav, November 1988);
Summa Metaphysica II: Spiritual Man: God and Good
(New Paradigm Matrix, March 2005);
Summa Metaphysica III: Secular Man: The Transcendent Dynamic
(New Paradigm Matrix, January 2014).
---
DAVID BIRNBAUM PHILOSOPHY / METAPHYSICS